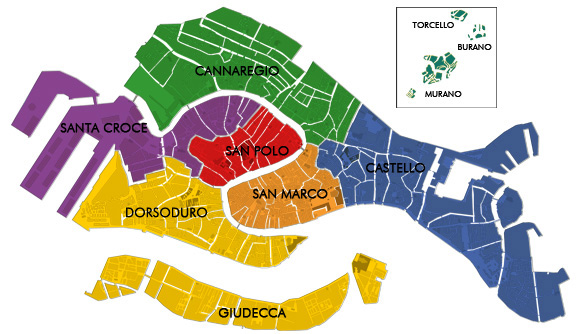 Venice since 1170 has been divided into 6 zones called Sestieri and beware that the civic numbering is unique for each district:
San Marco takes its name from the patron saint of Venice and the homonymous Basilica and occupies the area that begins after the Accademia Bridge and borders the Sestiere di Castello.
Castello so called for the presence of an ancient fort that defended the city from the sea; From the fort, located on the island of San Piero, up to Santa Maria del Giglio, at the mouth of the Grand Canal near San Marco, ran a wall and from that point was dropped at night a chain to prevent the passage to the enemy ships. Castello extends to the east end of the city and ends in Sant'Elena and borders the sestiere of Cannaregio to the west.
Cannaregio takes its name from the ancient presence of reeds throughout the area and is the northern sestiere of Venice that runs along the entire North Lagoon until it arrives at the station and Ponte degli Scalzi.
Santa Croce begins after the Ponte degli Scalzi and takes its name from the presence of an ancient church in the place where today the public gardens Papadopoli, near the railway station of Santa Lucia; It borders the sestiere of Dorsoduro and San Polo.
San Polo is the name of St. Paul. The campo with the homonymous name is one of the largest campo of Venice and borders with Dorsoduro.
Dorsoduro so said for the hardness and resistance of the soil; It was the last district to be inhabited also because of its position more exposed to enemy invasions. It overlooks the Giudecca canal and houses the port of Venice and the Punta della Dogana. The Giudecca is located in the southern area of the city and is part of the sestiere of Dorsoduro. It is an island that was formerly known by the name of Spinalonga, perhaps due to its elongated herringbone shape and was rich in orchards and gardens. The Giudecca can only be reached by Vaporetto.
We have apartments in each district are all equipped with every comfort and they all have a great location. Each sestiere has something special even if everyone thinks that SAN MARCO is the most beautiful, in fact it is only the most popular and is inhabited by tourists. There are other sestieri such as Cannaregio or Castello or Santa Croce that are closer to the daily life of the Venetians and are rich in local shops, small typical bars where you can live close to the heart of the city.
Welcome to Venice